Join me for a second… (you won't regret it, I promise!)
Let's use our imaginations to transport ourselves from the living room to the beach in Maui. Take a deep breath of the fresh, ocean air, soak up some sun, and listen to the waves crash against the beach.
Dreamy, right?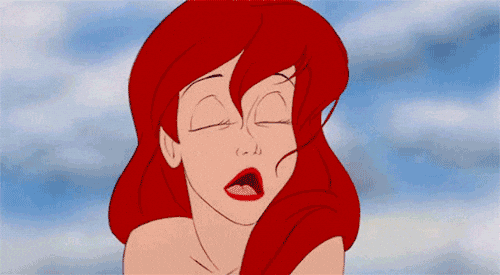 I wish this vision was a reality and like Ariel from The Little Mermaid, I want to be where the people are. But since that's not possible, let's keep that dreamy vision in mind, and live our best lives on our quarantine islands. (My island also has endless pizza and Princess Diaries on re-run. It's kind of the best!)
To help you on your island, I'm sharing my favorite Aerie swimwear. Did you know that they recently launched a new capsule collection made from recycled plastic bottles and re-styled nylon fabric?! They nailed it, and in the words of Aerie, "Recycling never looked so good!"
Here's the haul:
Pretty colors (white, bright pink, and blue vibe) with a long-line for extra coverage and support. Adjustable straps and removable pads, which I adore!
As head of the Itty-bitty Titty Committee (if you know, you know haha), these features are a DREAM. This bikini top will hug me just-right, making it super comfortable and super flattering! And can we talk about these ruffles?! I'm a sucker for them – they're perfect for shoots! I love pairing these with the Aerie Super High Cut Cheekiest Bikini Bottoms – the super high cut leg is really flattering and I love how it pulls in my body shape.
10/10 will be adding to the cart.
Aerie Ribbed Knot Bandeau Bikini
Cut, snug, and pairs perfectly with any bottoms. The removable strap lets me wear it any way I want, and the colors are a dream.
I love how comfortable it is and works for all body types! I'd pair with the Aerie Ribbed High Cut Cheeky Bikini Bottoms to show off my long legs and my sweet cheeks. *wink*
Aerie One Shoulder One Piece Swimsuit
This piece has "wish you were here" vibes written ALL over it! I'm in love with the details of the bold print. Helloooo, Hawaii – I can't wait to see you again!
I love a good one-piece, especially when it fits like magic. The one-shoulder one-piece is incredibly flattering and fun! I would pair with an oversized boyfriend shirt or a cute beach sweater. Perfect for dancing around on the beach.
Aerie Wide Strap Plunge Bikini
Holy Macaroni! I am digging the plunge to take a plunge! (*nudge*…get it? 😅)
The brilliant blue wide plunge just makes me happy. I'm all for the pretty prints and stripes! This piece just seems fun to wear and would definitely stay in place for jumping into the ocean Moana-style.
I'd pair this with the Aerie Bikini Bottom in the same color, brilliant blue. It's a classic choice and is definitely sunshine ready. I love these comfortable bottoms and I'm obsessed with matching both patterns for a clean, pretty look.
This bikini is perfect for a getaway… if that day ever comes. For now, you can bet I'm wearing this to my living room!
Obsessed with all the colors (Hiker Olive, Heirloom, and Monaco Blue) and the support game is fire! Like me, you'll want to rock this style for your days spent poolside. I'd pair with the Aerie Knot Bikini Bottoms – the pretty little details definitely take this look to the next level.
Okay, I'm eager to hear from you! What is your favorite swimwear? Do you live the Bikini Life or are you a One-Piece Glam Gal? Prints or solids? Colors or classic black?
I have sooo many questions! Share your favorites below.
Photos by Debra Eby , Giphy, and Aerie.